EBAD TiNi™ Pin Puller
Price on request
The EBAD TiNi™ Pin Puller is fast-acting and suitable for a variety of Aerospace applications. Pin retraction is achieved by coupling the recovery characteristics of Shape Memory Alloys with a patented trigger mechanism. Pin Puller pull force ranges from 5 to 1000 lbf with five standard sizes offered as COTS (Commercial Off the Shelf) items.
Vendor:
EBAD
Description
Features
Product properties
Performance
Pin Puller Accessories
Documents
Description
Flight Qualified – Since its outer space debut aboard the Mars Global Surveyor spacecraft in November 1996, the TiNi™ Pinpuller has been qualified and used on numerous other space applications.
NEA (Non-Explosive Actuators) – As with all the EBAD TiNi™ products, the Pinpullers are non-pyrotechnic and field reset-able with a minimum qualified life of 100 cycles.
Field Reset-able and Reliable – The mechanism is reset by simply re-extending the output shaft or Pin which may be accessed from the front or rear of the Pinpuller.
Redundant Firing Circuit – As with all EBAD TiNi™ Actuators a redundant SMA circuit is incorporated. This provides complete electrical redundancy as well as mechanical redundancy for the critical trigger element.
Fast Acting – By directly passing current through the SMA element, the Pinpuller's perform in millisecond time frame making them ideal for synchronized and simultaneous release of multiple tie-down payloads.
Auto Shut-Off Switches – Simple Auto Shut Off Switches are incorporated into each Pinpuller to protect the Trigger.  This makes them very "user friendly" and operable from a wide range of current and voltages.
The P5 size Pin Puller retracts the output pin with 5 lb (22N) of force, in a matter of milli-seconds. It is capable of supporting applied side loads up to 100 lbf (444.8 N) during peak loading condition such as launch shock and vibration. As with all EBAD TiNi™ products, key attributes include:
Non-Pyrotechnic and Field Reset-able
Redundant Firing Circuit
Maximum Reliability Thru
Design Simplicity
Pedigree
Testability
| | |
| --- | --- |
| Mass | 1.06 oz [30 g] |
| Power | 1.25 W @ 0.4 A |
| Operational Current | 0.4 to 1.5 A |
| Resistance | 7.7 ± 0.5 Ω @ 23° C |
| Pull Force | 5 lbf [22.2 N] min. |
| Pull Stroke | 0.250 in [6.3 mm] min. |
| Axial Load (Actuation) | 2 lbf [8.9 N] max. |
| Side Load (Actuation) | 10 lbf [44.5 N] max. |
| Side Load (Non-Actuation) | 100 lbf [444.8 N] max. |
| Function Time |       130 msec. max. @ 0.5 A (23° C) |
| Reusable | By Manual Reset |
| Life | 100 Cycles min. |
| Operational Temperature | – 65° C to + 70° C |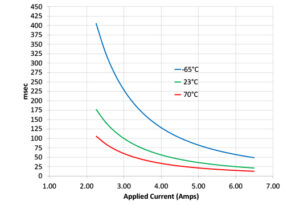 All EBAD TiNi™ standard Pin Pullers are rated for a life of a minimum 100 actuation and reset cycles. For continued testing, EBAD provides reset tools of various shapes and designs. Standard Pin Puller reset tools come in two basic designs – A manual "push-pull" type that can be used to reset Pin Pullers up to 10 lbf. (ie P10), and a jackscrew type that is used to reset up to 1000 lbf. All are simple to use and can be readily customized to suit application constraints.